10/5/15

Have a great week!

PROFESSOR LOUIE & THE CROWMATIX
"a tasty mix of rhythm and blues and rock & roll. Americana at it's best" - Village Voice

Grammy nominated Professor Louie & The Crowmatix were inducted into the International Blues Hall Of Fame - New York Chapter & The Canada South Blues Hall of Fame.

Check out new blog Professor Louie - 2015 Recipient of Robert H. Chambers Award for Excellence in the Traditional Arts

Check out Prof. Louie & The Crowmatix
Live on The Radio
Mon. Oct. 5th - WRPI RADIO 91.5 - Troy, NY
"Stormy Monday Blues" with Steve Daub
Air Time 8-10 PM

PL&C were on the road again this past weekend.
On Fri. Sept. 25th we performed at the DOUBLE DOOR INN in Charlotte, NC - then on
Sat. Sept. 26th PL&C performed in concert at the Town Of Port Royal Street Fair in Port Royal, South Carolina -
Many fans & friends came out to see the band....what a wonderful event!
A beautiful area and all the folks there were so hospitable...we all had a really fun time!
Gaining new fans wherever we go...Thanks to all who came out to these shows.....PL&C

On Sat. Sept. 19th Professor Louie & The Crowmatix and opening act Willa McCarthy Band performed to an enthusiastic crowd at the TOWNE CRIER in Beacon, NY
Thanks to Phil Ciganer and all our fans & friends who came out for the night. PL&C

Professor Louie & The Crowmatix with The Rock Of Ages Horns performed at the COLORSCAPE FESTIVAL on Sunday Sept. 13th in Norwich, NY. Special thanks to Ken Millet & staff for the wonderful hospitality and to all our fans who came out to enjoy the show! PL&C

Check out all the blogs -
PL&C, Commander Cody & NRPS - Sugarloaf Performing Arts Center Review - Stan Beinstein: Radio Executive and Concert Promoter
Professor Louie - By R O Donnell - Fourth Coast Entertainment and
Bob Price interviews Gary Burke - for Dylan Festival Warwick Winery Dylan Festival

Check out the Blog - Rock 'n' Roll Barn - CD Single from Professor Louie & The Crowmatix new CD Music From Hurley Mountain to be released in the fall.
See the list of some of the great artists who recorded at The Rock'n'Roll Barn.

Check out blog PL&C Soul Blues CD *****Review by Brian Robbins.

Please sign in at the bottom of the page for Professor Louie & The Crowmatix email list...we want to keep in touch with you and let you know when we will be in your neighborhood! Thanks......PL&C
Wings On Fire [6.05.2012]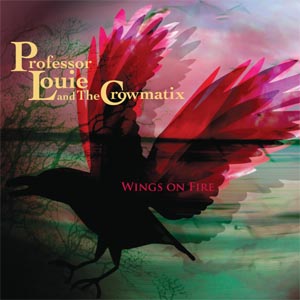 NOW AVAILABLE IN VINYL


Highest Quality Vinyl - ten great songs with a free Drop Card. Download the Drop Card and get the additional three songs from the original CD.
Check out this link
A Trip To The Moon
Upcoming Shows
---
Prof. Louie & The Crowmatix
Live on The Radio
Mon. Oct. 5th
WRPI RADIO 91.5 - Troy, NY
"Stormy Monday Blues"
with
Steve Daub
Air Time 8-10 PM
Fri. Oct. 9th
PL&C In Concert
Club Symply Fargone at Viva Bene
Worcester, MA
Show: 8:00 PM
Sat. Oct 10th
CAFFE LENA
Saratoga Springs, NY
Show: 8:00 PM
Hope to see you at one of these great shows! PL&C
---
---
7/30/2015
Prof. Louie - 2015 Recipient of Robert H. Chambers Award
For Excellence in the Traditional Arts
5/26/15
PL&C, Commander Cody & NRPS - Sugarloaf Performing Arts Center
Review - Stan Beinstein: Radio Executive and Concert Promoter
5/1/2015
Professor Louie - By R O Donnell
FOURTH COAST ENTERTAINMENT